Safe Seed Safe Planet, Seed Catalogs and Cool New Plants
The Safe Seed Pledge

"Agriculture and seeds provide the basis upon which our lives depend. We must protect this foundation as a safe and genetically stable source for future generations. For the benefit of all farmers, gardeners and consumers who want an alternative, we pledge that we do not knowingly buy or sell genetically engineered seeds or plants.

The mechanical transfer of genetic material outside of natural reproductive methods and between genera, families or kingdoms, poses great biological risks as well as economic, political, and cultural threats. We feel that genetically engineered varieties have been insufficiently tested prior to public release. More research and testing is necessary to further assess the potential risks of genetically engineered seeds. Further, we wish to support agricultural progress that leads to healthier soils, genetically diverse agricultural ecosystems and ultimately people and communities."
Enter the new millenium...
I had a nice break between Christmas and New Years and since I had already begun to receive seed catalogs in the mail guess what I spent much of my time doing? I always read the little introduction in the beginning of the catalog, this is where they tell you about the new introductions and other odd bits of information you may not see anywhere else. Last year for the first time, many of the catalog companies took a stand against genetically engineered seeds, pledging not to knowingly buy or sell them. This year a coalition of farmers and concerned organizations have gotten together to formalize the pledge, offering it to every seed company in the U.S and Canada to sign and publish in thier catalog. It is an opportunity to reach hundreds of thousands of people and explain to them why they refuse to carry genetically engineered seeds.
To date there are over 50 seed companies who have signed the pledge. If you are concerned about contamination from genetically engineered organisms then be sure to buy your seed from organic seed companies and or companies that have signed this pledge. If you would like the list of companies who have signed it email me at gardngyrl@humboldt1.com. The Jan/Feb issue of Organic Gardening has a great list of seed companies, broken down into categories covering vegetables, flowers, herbs, edible and ornamental plants, who have signed the pledge. It also tells you what percentage of each company's seeds is produced organically, whether or not you can order on-line and where to send for a catalog. This alone makes it worth the $4 cover price.
Fortunately all of my favorite companies have signed the pledge. I have to say I was disappointed that Territorial did not publish the pledge anywhere in their catalog. They do however boast about the introduction of "not just one&two certified organic hybrid winter squashes". I don't know about you but I don't consider the introduction of new hybrid varieties something to celebrate, even if they were conceived "organically". Sounds like a contradiction to me. I didn't plan on ragging against this company but I just reread their inside cover and I'm disgusted now. They brag about their involvement in the organic agriculture movement, yet only 10% of the seed they offer is organic. Ok, ok I'll let it go.
So what's new and interesting for 2001? Lets start with herbs. I've decided to grow more of them in place of flowers this year. Trying to guess which flowers the deer will leave alone has proved impossible. Each year I think I've got it figured out the deer decide they would like to try something new. Like the year I noticed they left the gladiolus alone. So the next spring I planted tons of glads, you know where I'm going with this don't you? Decimated! chowed to the ground!, ravaged!, this is what the deer did to my glads. I think it's a conspiracy the deer planned because we are cutting down and developing their land. I think they read the gardening magazines to find out which plants we think they don't like, then they target those plants for total annihilation.
So I'm taking a look at herbs, the smellier the herb the better it seems. The deer don't touch them, really they don't. Herbs seem to be the only thing they consistently stay away from (at least until they read this article). And have you noticed how ornamental many of them are. Take sage for example. I counted 31 kinds in the Richters catalog (a most incredible herb catalog carrying over 800 varieties of culinary, medicinal, aromatic and ornamental herbs. Reach them at https://richters.com/). They come in all shapes sizes and bloom colors. Many of them have variegated leaves that are very attractive. Same goes for oregano, lavender, thyme, rosemary, fennel and mint, not to mention about a million others. There are many more varieties of the same herb/plant/flower available than what are carried in the local nurseries and lots of them are ornamentally useful in the garden. This is why I am such a catalog fanatic, that's right I'm a catalog fanatic. Here are some of the cool things I've seen so far.
There is a new color of Cerinthe available this year from the RH Shumway Company (1-800-322-7288). It's called Blue Kiwi and it has really unusual greenish blue leaves and an incredible azure and purple bell shaped flower. The new variety is called Yellow Candy and has, according to the picture, the same leaf color with a really pretty contrasting purple and yellow bell shaped flower. I'm going to give it a try. Blue Kiwi has been a great addition to my garden and it readily self-sows so there are always new plants coming on. If Yellow Candy has the same habits I'll be a happy girl.

Johnny's Select Seeds (www.johnnyseeds.com) has a new ornamental kale called Cutflowers Kale. It has been such a hit in Europe that demand by European florist caused a seed shortage. That's right, this kale is used by florists in bouquets. It is kind of cool looking and definitely bouquet material, especially useful in the fall and winter when pickings are slim. It has a small leaf type head, similar to other ornamental cabbages but this one has a long 24-inch stem making it the perfect cut flower. The catalog description says it has a very long vase life. I may have to brave the aphids and cabbage worms and give this one a chance.
There are some new colors for calenduals. Last year I tried Touch of Red and was really pleased, except they don't seem to set seed or self-sow as prolifically as regular old yellow/orange calendulas. This year several companies are offering Déja Vu, a calendula mix that produces tones of pink, orange, cream with burnt orange and some with darker tones on the underneath of the petal. Indian Prince is dark orange on top and mahogany underneath. I'll try both of these, even if they don't self-sow they add great color to the winter garden.
I could go on there are lots of cool seeds/plants being offered through catalogs. Most catalogs are free for the asking; many that charge for the catalog give it back as a credit when you order something from them.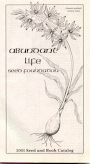 Here are a few more of my favorite catalogs. The Cook's Garden, 1-800-457-9703, these folks scan the world for the most delicious varieties of vegetables and herbs, perfect for the gourmet cook. They also carry some interesting and hard to find kitchen supplies and books. Pinetree Garden Seeds, www.superseeds.com. They carry some really great seeds from around the world as well as an extensive list of books and gardening supplies. Abundant Life Seed Foundation, box 772, Port Townsend, WA 98368 is a seed bank dedicated to keeping heirloom and open pollinated seed varieties alive and thriving. There are many more, check out the above mentioned resources or do a web search if you really want to be blown away by the choices available.
The small seed company is alive and well, all-organic seed companies are on the rise and more and more old time varieties are being brought back from the brink of extinction thanks to the numerous seed saving banks that have sprung up around the world. We need to support them, so when you are planning this summer's garden be sure to buy seed from companies that have signed the Safe Seed Pledge or are organic.